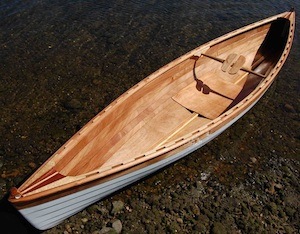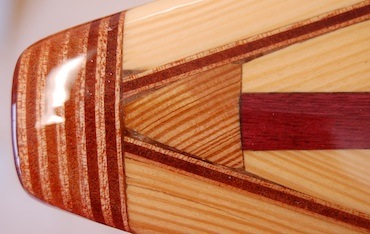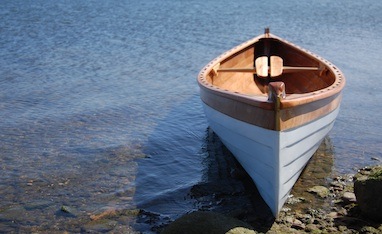 Bespoke wooden watercraft
Have you ever wished your glassfiber boat was a little lighter, a little easier to paddle, could carry more load, tracked straighter, turned with greater ease or was just not so dreadfully ugly?
Are you the kind of person that places high demands on yourself and others and accepts only the best quality and performance?
Have you reached a stage in your life where your basic financial needs are met, and there is some extra cash available to treat yourself from time to time with an object of desire that you can admire, enjoy and pass on to the next generation?
Maybe it is time to take a closer look at our bespoke, ultralight wooden watercraft and to consider which one will best suit your lifestyle.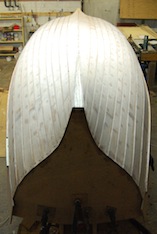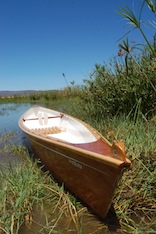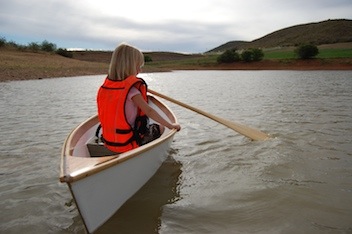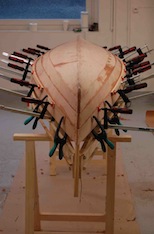 If you like to break away for a quiet weekend with fishing rod and binoculars in search of that elusive rainbow trout or rare bird species, or just like to be mesmerized by the feeling of effortlessly floating on a tranquil pond with the slightest urging from your slender paddle, our solo lapstrake canoe might be just the boat for you. Weighing in at as little as 11kg, this 3.5m craft is stable, seaworthy and moves with consummate ease at the slightest paddle stroke. This canoe is easily cartopped and carried to the water with one hand. Prices start at ZAR 22,000 and includes a hollow wooden paddle (about 900 grams) with a carbon fiber ferrule for easy transport (blade offset can be adjusted).
If you prefer to take the family along, or break out a sweat in a fast yet stable rowboat, take a closer look at our Rangeley Lake boat (will accept a small outboard engine). Also constructed according to the ultralight and strong glued-lapstrake method, this 5.2m boat has a generous beam of 1.2m that allows two sets of oars to be mounted directly on the gunwales. Great for fishing with a small group of friends (2-4 people). Can be cartopped, but it should preferably be transported on a lightweight trailer. Prices start at ZAR 45,000 and includes two sets of bespoke oars.
For a truly exhilirating sailing experience, try out our fast sailing canose that will challenge your balance and give you a thorough workout and plenty of thrills and spills. We can build you a flatbottom, Canadian-style or IC10 extreme sailing canoe. Choose your steering mechanism, leeboard setup and sail area. Prices available upon request.
In search of a full-body workout, look no further than our 3.6m Stand Up Paddleboard - and join the latest leisure trend to sweep the world's beaches, rivers and lakes. Designed for a paddler weighing about 100kg, it will take 200kg to submerge this stable board. We use marine plywood for the deck and floors, and 6mm thin wood strips for the rails. It is internally reinforced with judicious strips of glass tape, carbon fiber roving and kevlar patches. We glass on a single fin, but can adapt it for surfing with a more extreme bottom profile and tri- or quad fin setup. This board can be equipped with a removable hatch with an internal waterproof bag to store your valuables. Why not ask for a version that can stash your fishing gear? The SUP is easily cartopped and with a 2.1m single paddle, prices start at ZAR 20,000.
Are you more into kayaking? Then turn to our Nick Schade-designed award-winning strip-built single and double strip-built sea kayaks. Enjoy the beauty and performance of a gleaming wooden boat that will make you truly stand out from the crowd with their glassfiber, kevlar and carbon clones. We use Western Red Cedar, Surian and Douglas Fir and coat the inside and outside with transparent glassfiber cloth for strength and add at least five coats of UV-resistant varnish. Prices start at ZAR 35,000 for a nicely equipped boat.
If you're after the thrill of big waves or just like to play around, hanging ten and noseriding in the shallows, consider our custom-designed hollow wooden surfboards. From 6ft fun boards to 12ft monster longboards, we can design and build your dream board. Any rail configuration, bottom concave sections or other design features can be incorporated. The most beautiful solid wood is used to cut strips for these boards, and they are thoroughly protected by a layer of glassfiber cloth. Prices start at ZAR 18,000.
For everything else, contact us for a proposal. We'll either source a ready-to-build plan or design and build the boat of your dreams.
Locations:
De Rust, South Africa
Visit us on Facebook for regular updates and photos of boats under construction
http://www.facebook.com/people/Kanoe-Fabrik/100001483291810
Email: jan@kanoefabrik.com